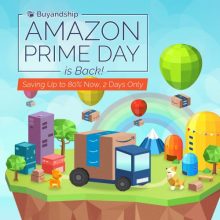 Amazon is celebrating its big "Prime Day" sale on the 13th of this month, and only Amazon Prime members can enjoy the generous discounts! And Prime Day offers are often as good as Black Friday deals!
If you haven't used Amazon Prime yet, you can register to get a 30-day free trial for the first registration, and immediately register as an Amazon Prime member. The whole process only takes 1 minute, and as soon as the registration is completed, you are ready to enjoy the exclusive deals for prime members!
Due to the time zone difference, you may be confused, or curious to know when is the exact launch time of Prime Day in different regions. Our curator has also helped you sort it out to ensure you won't miss out on any deals!
Continue Reading →