Fukubukuro is an amalgamation of two Japanese words, fuku, which means "good luck" and bukuro, which means "bag".
These "lucky bags" are a Japanese new year custom, and now have become an annual craze nationwide whereby retailers and brands make mystery bags filled with products and sell them for a substantial discount – you can buy products with a value of 3 times or more at a super affordable price. The bags are typically sealed, so you can't peep inside.
Buyandship prepares the lucky bags shopping bible for you. Let's get some luck for the next year!
*Picture for reference only, products in the lucky bag will be packed in random styles and colors.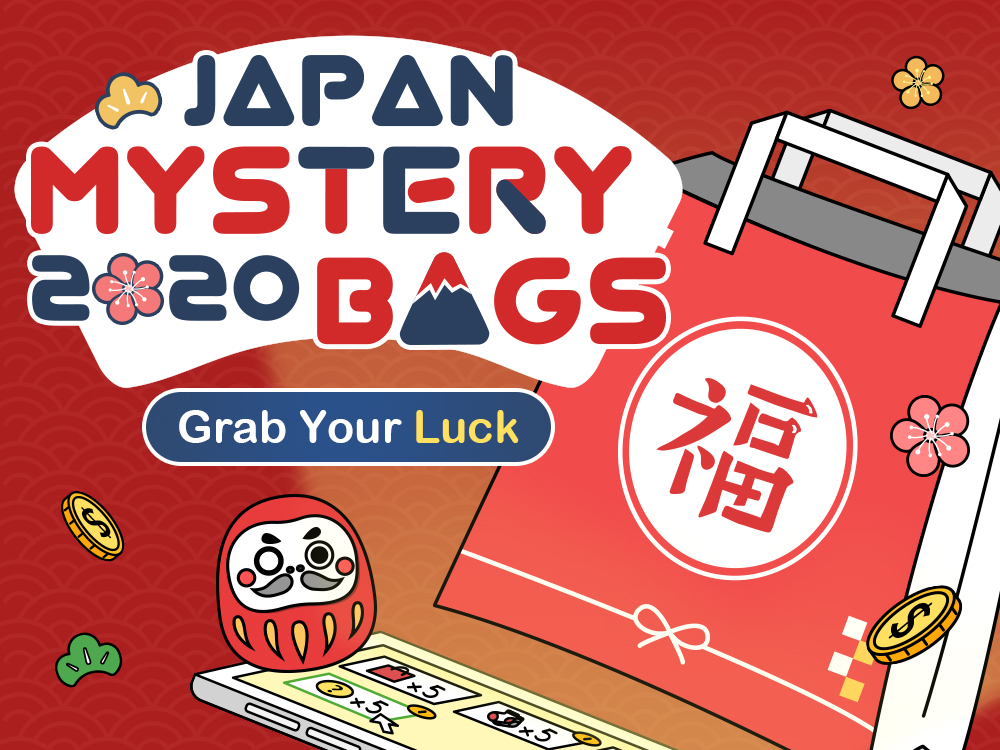 ---
2020 Japanese Lucky Bags Online Shopping Bible
Men's Lucky Bags
Includes 7 T-shirts. It's priced at ¥5,500 (~ INR 3,582), INR 512 each!
Pre-order date ends on 11th Dec 23:59
The estimated shipping date will start from 1st Jan 2020
► The North Face X Columbia X Marmot
Lucky bag includes products of The North Face, Columbia, and Marmot
Products include 1 coat, 1 jacket and 2 tops like sweatshirts or hoodies
One for each brand and one of them will have 1 more item
Products will be packed randomly
It's priced at ¥35,000 (~ INR 22,796)
This lucky bag is well-reputed every year
It's priced at ¥15,000 (~ INR 9,770). Includes 1 coat, 1 jacket, and 2 tops
There are 4 choices of lucky bags, the styles and colors are mysteries
The estimated shipping date will start from 1st Jan 2020
► atmos
One of the MUST VISIT stores in Harajuku! It's famous among fashionistas
It offers 3 styles of lucky bags, The low-price one is ¥11,000 (~ INR 7,164). Includes 6 items worth up to ¥40,000 (~ INR 26,052)
The medium-price one is ¥33,000 (~ INR 21,493). includes 12 items worth up to ¥100,000 (~ INR 65,131)
The hight-price one is ¥55,000 (~ INR 35,821). Includes 17 items worth up to ¥170,000 (~ INR 110,722)
The estimated shipping date will start from 1st Jan 2020
► Kangol
Kangol first works with VENCE Share Style to launch lucky bags, the price is ¥11,000 (~ INR 7,164)
Includes 3 tops
The estimated shipping date will start from 1st Jan 2020
► Champion
Champion lucky bag is priced at ¥11,385 (~ INR 7,415)
Includes 1 sweatshirt and 1 zip-up hoodie
This lucky bag is available now
► Puma
Puma lucky bag is only priced at ¥11,000 (~ INR 7,164)
Includes 1 down jacket, 1 sport jacket, and pants, 1 T-shirt, 1 beanie and 1 backpack
The estimated shipping date will start from 1st Jan 2020
Women's Lucky Bags
E hyphen world gallery is one of the MUST BUY lucky bag every year!
It's priced at ¥5,500 (~ INR 3,582). Includes 1 coat, 3 tops and 1 skirt
The estimated shipping date will start from 1st Jan 2020
It's as popular as E hyphen world gallery
It's priced at ¥11,000 (~ INR 7,164). Includes 1 coat, 5 tops, 1 jumper dress, 1 skirt, and 4 accessories. Products worth up to ¥50,000 (~ INR 32,565)
The estimated shipping date will start from 1st Jan 2020
Famous handbag brand, Samantha also launches lucky bags this year!
Includes 1 handbag and accessories. It's priced at ¥11,000 (~ INR 7,164)
The estimated shipping date will start from 1st Jan 2020
► atmos
There are 2 lucky bags can be preordered, the cheapest one is priced at ¥11,000 (~ INR 7,164), includes 5 items worth up to ¥40,000 (~ INR 26,052)
Another one is priced at ¥16,500 (~ INR 10,747), includes 5 items worth up to ¥55,000 (~ INR 35,822)
The estimated shipping date will start from 1st Jan 2020
► SNIDEL
SNIDEL lucky bag is priced at ¥11,000 (~ INR 7,164)
Includes 1 coat, 1 jumper dress, 1 sweater, 1 skirt, 1 hoodie, and 1 hat
The estimated shipping date will start from 1st Jan 2020
CECIL McBE deluxe lucky bag is sold with the suitcase! It's priced at ¥11,000 (~ INR 7,164)
Includes 1 coat, 1 padded jacket, 1 jumper dress, and 1 or more tops. Products worth up to ¥66,000 (~ INR 42,986)
The estimated shipping date will start from 1st Jan 2020
► dazzlin
dazzlin lucky bag is priced at ¥11,000 (~ INR 7,164)
Includes 6 items worth up to ¥66,000 (~ INR 42,986)
There are two styles of lucky bags, packed randomly
The estimated shipping date will start from 1st Jan 2020
Green Parks launches 2 lucky bags this year
The small oneincludes 5 items like knitted jacket and top. It's priced at ¥5,500 (INR 3,582)
The large oneincludes 10 items like coat and furry jacket. It's priced at ¥11,000 (~ INR 7,164)
The estimated shipping date will start from 1st Jan 2020
It's priced at ¥2,750 (~ INR 1,791)
Includes 3 Fun Fun Week Bralettes
The estimated shipping date will start from 1st Jan 2020
Children's Lucky Bags
► Babydoll
It sold over 350 thousand lucky bags last year
There are two styles of lucky bags this year, one is Disney, including 1 coat, 2 tops, 1 pair of jeans/skirt, towel, and reusable bag. Products are printed with Mickey / Minnie pattern. The price is ¥ 6,600 (~ INR 4,298)
The other style also has 6 products printed with Babydoll pattern. The price is ¥5,500 (~ INR 3,582)
The estimated shipping date will start from Early December
► Doraemon
Doraemon lucky bag is priced at ¥3,300 (~ INR 2,149)
Includes 1 backpack, 1 coat, 2 tops, 1 pair of pants and socks
Another style also has 6 items printed Babydoll patterns. It's priced at ¥5,500 (~ INR 3,582)
The estimated shipping date will start from late December
► X Large
Boy clothing lucky bag includes 2 jackets, 2 tops, and 1 pair of pants
It's priced at ¥11,000 (~ INR 7,164)
The estimated shipping date will start from 1st Jan 2020
► Champion
Lucky bags for boys has sizes from 130 CM to 160 CM
Includes zip-up jacket, hoodie, long sleeve T-shirt, pants and handkerchief
It's priced at ¥5,500 (~ INR 3,582)
The estimated shipping date will start from 28th Dec 2019
HOT BISCUTS is a medium-priced brand for children's clothes. its lucky bag has been well received by moms every year.
Includes 1 furry jacket, 1 sweatshirt, 1 long-sleeve T-shirt, and 1 pair of pants
It's priced at ¥11,000 (~ INR 7,164)
The estimated shipping date will start from 20th Dec 2019
Miki House is a high-class brand for children's clothes, products are mainly made in Japan
It offers lucky bags at 5 different prices: ¥11,000(~ INR 7,164), ¥22,000(~ INR 14,328), ¥33,000(~ INR 21,493), ¥55,000(~ INR 35,822), and ¥77,000(~ INR 50,150)
¥11,000 and ¥20,000 lucky bags will be packed with paper bags; ¥30,000, ¥50,000, and ¥77,000 lucky bags will be packed with storage boxes which can store toys and clothes
The estimated shipping date will start from 20th Dec 2019
Includes 1 duffel coat, 2 tops, 1 pair of pants, and 1 beanie and gloves
Clothes are printed with train's patterns
It's priced at ¥8,800 (~ INR 5,731)
The estimated shipping date will start from 1st Jan 2020
Includes 1 furry coat, 1 jumper dress, 1 top, 1 pair of pants, and 1 beanie and gloves
Clothes are mainly pink and printed with kitty's patterns
It's priced at ¥8,800 (~ INR 5,731)
The estimated shipping date will start from 1st Jan 2020
Home's Lucky Bags
Afternoon Tea Living lucky bag is priced at ¥5,500 (~ INR 3,582)
Includes 1 compact heater, 1 blanket, 1 pair of room shoes, 1 eye mask, and 1 mini relaxer
The estimated shipping date will start from 1st Jan 2020
As the lucky bag contains electrical products, remember to consider voltage issues before buying
Franc Franc lucky bag is priced at ¥5,000 (~ INR 3,257)
It offers lucky bags for beauty and party. Beauty lucky bag has skincare products and some homewares
Party lucky bag has various tableware for party decoration
The estimated shipping date will start from 1st Jan 2020
LE CREUSET also launches lucky bag this year
Includes 20cm cast-iron pan and other cooking utensils. It's priced at ¥30,800 (~ INR 20,060)
This lucky bag is available now
Other Lucky Bags
It only sells ¥3,000 (~ 216) on Disney JP, the value of the products is 3 times the price!
Includes plush toys, cups, reusable bag, and other Disney products
The estimated shipping date will start from 1st Jan 2020
CRAFTHOLIC lucky bag becomes a sensation every year!
The small one is priced at ¥3,850 (~ INR 2,507), includes a 95-111cm stuffed toy, a makeup pouch, and a 5cm stuffed toy
The large one is priced at ¥5,500 (~ INR 3,582), includes a 95-111cm stuffed toy, a pillow, a makeup pouch, and a 5cm stuffed toy
This lucky bag is available now
💡Many international online stores only offer domestic shipping or high shipping fees to India. Buyandship provides international freight forwarding with 10 warehouses around the world, we help customers to reship overseas parcels back to India at an affordable shipping fee! Learn More