You may wonder how to consolidate multiple packages, when to consolidate, or why should you consolidate. Let's take a look at this 1-min guide and get your problems solved.
---

---
Benefit of Consolidation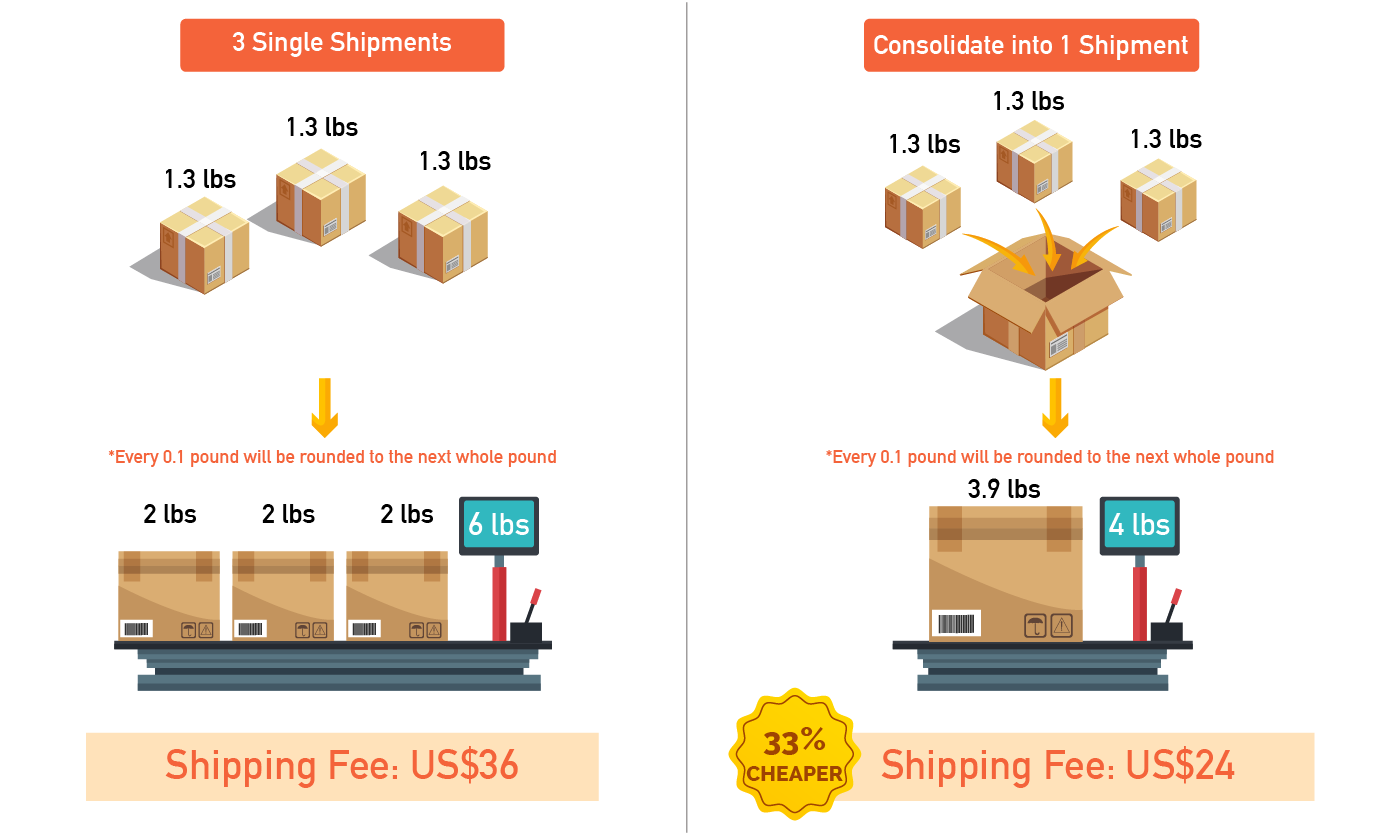 Buyandship allows you to shop online in different countries, and consolidate all your parcels into 1 shipment for free (Some of the parcel forwarding companies may charge you a fee for consolidation.), which helps save up to 80% international shipping.
For example, if you purchase a pair of sneakers (1.3 lbs) in the U.S., a coat (1.3 lbs) in the U.K., a home appliance (1.3 lbs) in Japan, and use our forwarding service to ship them back to India; there's one more action you can take to save more money – Consolidate your parcels into 1 package.
As every 0.1 pounds will be rounded to the next whole pound, if you ship these parcels back to India separately, the shipping would be US$36. However, if you consolidate parcels into 1 package, it only costs you US$24, which helps save US$12 (33% shipping fee).
---
When to Consolidate Your Parcels?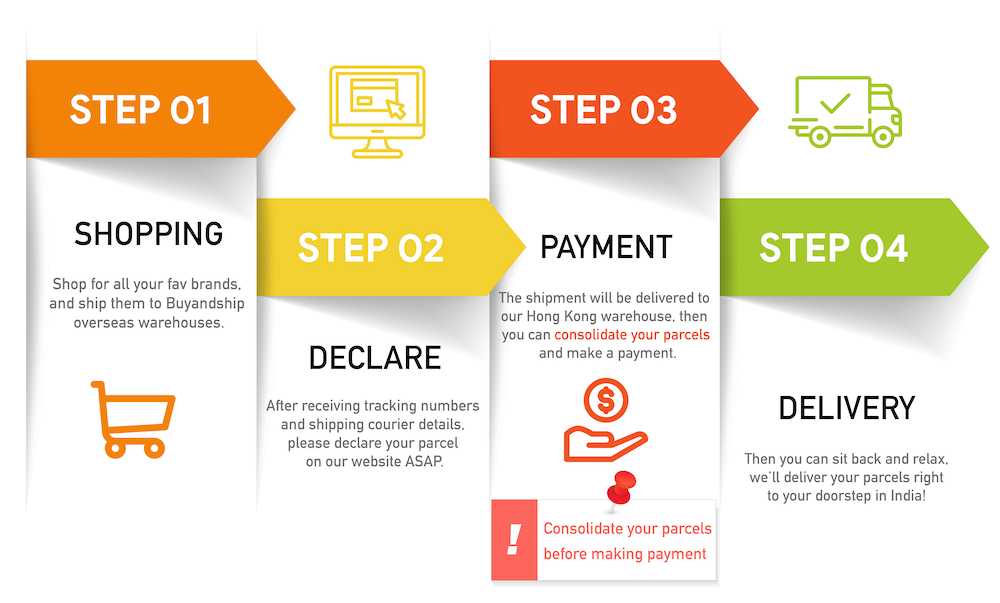 How do we forward parcel to you:
Oversea Online Stores or Sellers → Buyandship Overseas Warehouse → Buyandship Hong Kong Warehouse → Your Doorstep
Some of you may ask when should you consolidate parcels and here's the answer. After shopping overseas, please declare your parcels as soon as possible, and you'll receive a notification email which informs you that a parcel has arrived warehouse. Your shipment will then be automatically shipped to our central warehouse in Hong Kong for further processing. Once all your shipments arrived in Hong Kong, you can start to consolidate your shipments, fill in your shipping information, and make a payment.
---
How to Consolidate Your Parcels?
Step 1
Go to "My Account" → "Parcel Management" → "Arrived at HK Warehouse" tab, and choose the parcels you want to consolidate, enter your India address, choose the payment method, confirm all details, and finish the payment.

*parcels can be stored in our Hong Kong warehouse for 30 days.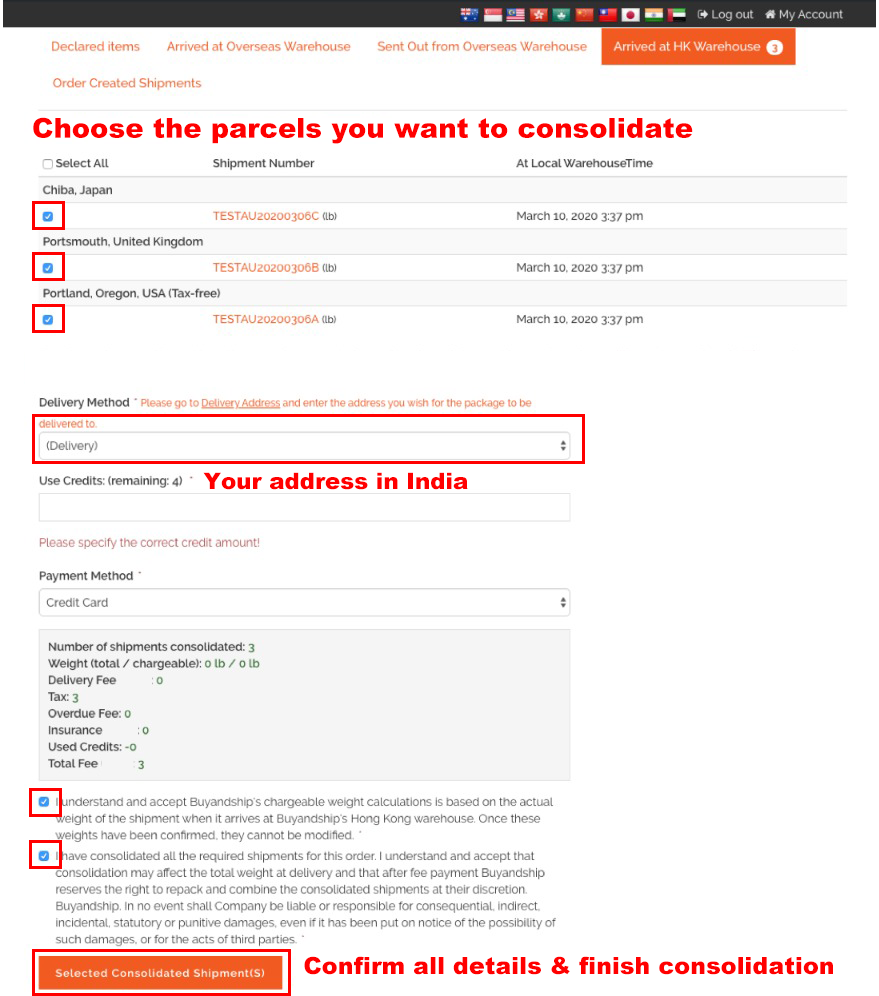 ---
Step 2
After you finish the consolidation and payment, you can go to "Orders" page to check for the result and the shipment status of your parcels.
It's as easy as a pie!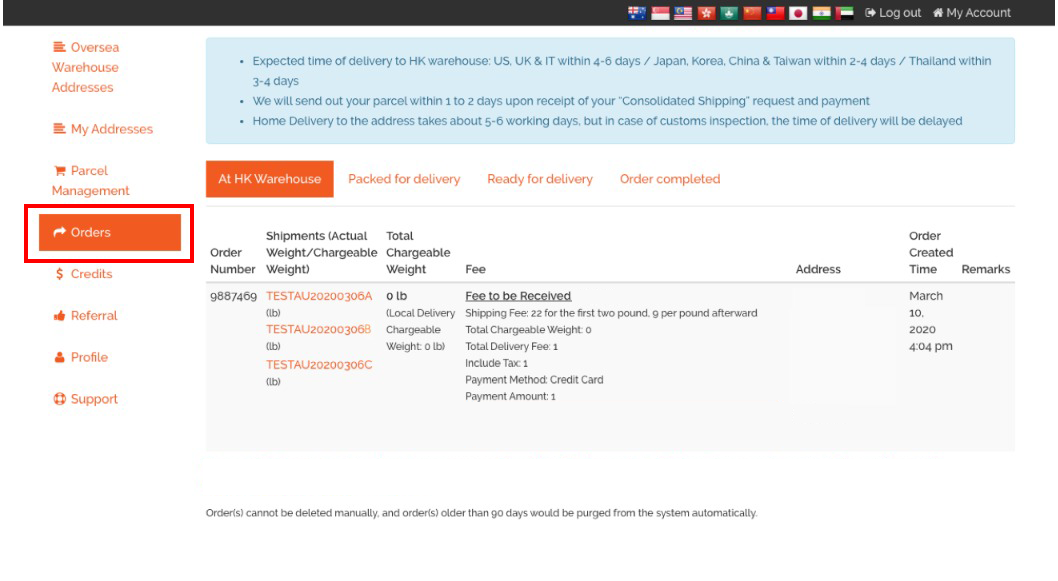 💡 If you have any questions during the consolidation, please feel free to contact our customer service (Click the chat box in the bottom right corner).
---
💡Many international online stores only offer domestic shipping or high shipping fees to India. Buyandship provides international freight forwarding with 10 warehouses around the world, we help customers to reship overseas parcels back to India at an affordable shipping fee! Learn More