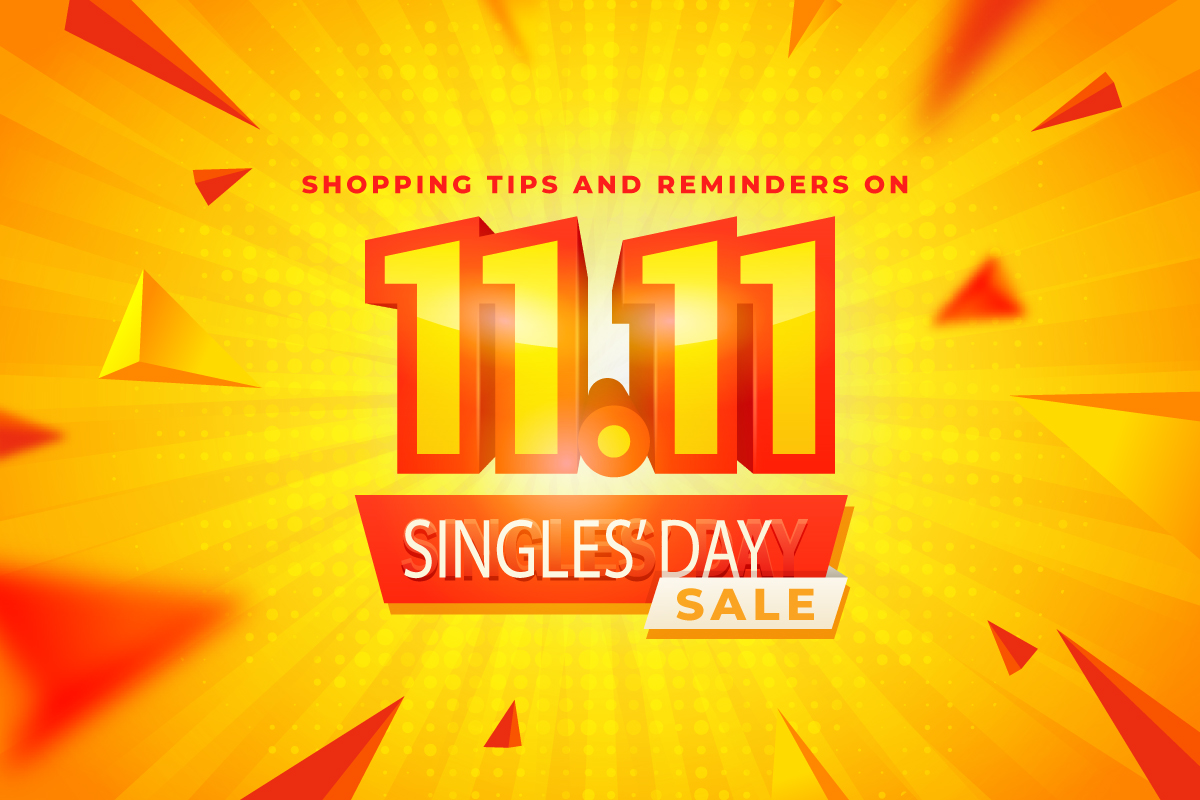 Are you ready for Asia's Biggest Sale? 11.11 Global Shopping Festival is just 2 days away!
Also known as Singles' Day, Double 11, or 11.11 sale, the 11.11 Global Shopping Festival is one of Asia's Biggest Sale Event of the year! It happens annually where you can find crazy deals Up to 90% OFF on many items across participating shopping platforms like Alibaba, Taobao, Tmall and More!
Every year, the 11.11 Single's Day Sale gets bigger and better, with more online shopping websites worldwide. The 11.11 sale originally became famous through the Chinese market and its top e-commerce platform, Taobao. But it's no longer just about shopping on Taobao or Tmall anymore as international brands are following suit after seeing the amount of success it garnered! We even have websites like Central from Thailand and JD.ID from Indonesia doing an 11.11 Sale! This is the perfect opportunity to shop early Christmas Gifts for your friends and family. Mark your calendars, set your alarm, and get ready to shop for this epic sale event.
---
Your Ultimate Guide on 11.11 Global Shopping Festival
Is this your first time shopping overseas for 11.11? We have some tips up our sleeves to share with you to prepare for your 11.11 Global Sale Shopping!
1. Familiarize Yourself with Each Platform
Since most of the participating brands in 11.11 Sale are in China/ Hong Kong, their respective page would most probably like in Chinese Characters as well. Navigating their interface can be a bit tricky especially if this is going to be your first time shopping in select foreign brands. Don't worry, we created a comprehensive tutorial blog on major participating brands if you were to use Buyandship for your purchase.
---
2. Make Use of Google Translate
Like we said in the previous point, most of the 11.11 Sale participating brands would be in a foreign language so, you are going to need a Google Translate Chrome Extension. It automatically translates the whole page for you, making your overseas online shopping a whole lot easier.
---
3. Prepare Your Shopping List and Create an Account to the Respective Online Store
Start formulating your shopping list now, add the product page to your favorite bookmarks, or pre-add it to your Wish List of the website. As long as the discounted price is launched in the next few hours, you can directly add the product to the shopping cart without any hassle and proceed to checkout easily.
Remember to fill in Buyandship's Warehouse Address to your Address Book to save more time and score huge deals.
---
4. Download 11.11 Coupon Codes in Advance
Most sellers or online stores offer discount coupons during the 11.11 Sale Event. On Taobao or Tmall, you can visit the respective stores or brands to check out what available coupons they have. Make sure to download them beforehand and store them in your account. Even if you end up not using some of them, at the very least you'll have extra savings when you shop if you do!
---
5. Prepare Multiple Cards for Payment
To avoid payment issues, prepare multiple payment options before the 11.11 Sale period. Most sellers on Taobao and Tmall do accept international credit/debit cards. If you're using your credit/debit cards to shop, make sure that your cards are not blocked from making overseas transactions, and it is a lot safer to have more than one card as a backup.
---
6. Use Buyandship's International Parcel Forwarding Service
During 11.11, the shipment volume going out of China will be massive so delays in getting your purchases to you might happen. Even scarier is when you can't track your parcel once it leaves China. Here's a pro tip: Taobao and Tmall often offer free shipping within China and Hong Kong during 11.11, so you only need to consider the Buyandship shipping costs! Keep in mind, that some other websites charge handling and agent fees. But with Buyandship you never have to be afraid of any hidden fees!
👉 Doesn't have an account yet? Sign Up Here to access our 12 warehouse locations worldwide!
Pro Tip: You'll get US$5 OFF once your Buyandship Account has been successfully verified!